Welcome Message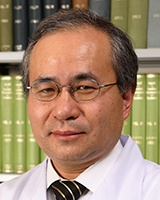 Dear Colleagues and Friends:
I was appointed as the president of the 76th Annual Meeting of the Japan Neurosurgical Society, which will be held on October 12–14, 2017, at the Nagoya Congress Center in Nagoya. It is a great honor and privilege for me to organize this meeting. With the support of the faculty and alumni of the Department of Neurosurgery, Nagoya University, we are working together to prepare for the meeting to be a great success.
The Japan Neurosurgical Society has its roots in the first Japan Neurosurgical Study Group, which met under the leadership of President Makoto Saito in conjunction with the 48th Annual Congress of the Japan Surgical Society held in Niigata in 1948. Since its first meeting, the society has grown into an organization with over 9,400 members with over 5,700 attendees as of 2016.
Meanwhile, the society has come to cover a wide range of content that encompasses the various aspects of neurosurgery and is unprecedented for academic meetings.
In addition, medications for various types of neurological disorders are growing more diverse, new medicines are being developed, and there are numerous development paths for diagnostic devices, surgical equipment, and surgical support devices. Therefore, I am confident that the annual meeting, which serves as a venue for participants to share information, has grown into one that is also worthwhile for participating corporations.
At the upcoming 76th Annual Meeting, I expect there to be spirited discussions by members, and I would like to create a venue where participants can actively exchange and share information. We are considering holding unique sessions that are based on the theme of the meeting embodied in its title, "Novos Philosophia-Neuroscience in the Near-Future", and we are also examining various possible types of sessions, such as cultural lectures, academic lectures, and education-related lectures. We will invite over 30 world-leading experts from overseas including Professor James Thomas Rutka, the JNS Editor-in-Chief, University of Toronto, Canada, an old friend of mine that I have known for more than thirty years. As for special sessions, there are plans for five "i-symposiums"—"International Symposium" (neurosurgical care that is becoming global), "Intelligence Symposium" (intelligence-derived neurosurgical care), "Inspiration Symposium" (creative/imaginative neurosurgical care), "Innovation Symposium" (neurosurgical care that supports technological innovation), and "Integration Symposium" (integrative neurosurgical care)—and through these symposiums, I hope participants will share the latest information and undertake spirited discussions. In addition to planning various other sessions, such as audience-participating special symposiums on controversies, video symposium, various seminars, joint sessions with other societies, and hands-on seminars, we will allot the abundant time for poster presentations enough to be extensively discussed.
The support and cooperation of all participants will determine whether these plans meet the expectations of members and the hopes embodied in these plans lead to new knowledge. I truly hope that all members actively participate and conduct lively discussions.
I look forward to seeing you in Nagoya in October 2017.
Sincerely yours,
Toshihiko Wakabayashi, MD, PhD
President
The 76th Annual Meeting of the Japan Neurosurgical Society
Professor, Department of Neurosurgery
Nagoya University Graduate School of Medicine